For anyone that frequents the theater, especially smaller theaters, it is not uncommon to hear pleas for donations; big or small, they'll take them all. Theaters struggle to make ends meet and more often than not it is due to the generous giving of patrons and their community that they are able to live to see another day. However, if the pleas at a production of Shakespeare By the Sea seem more fervent than most – there's even a raffle – there is a very good reason for that. All performances presented are done so free of charge. That's right, you can grab a picnic and a blanket and enjoy Shakespeare under the stars for free.
Shakespeare By the Sea started out in 1998 as an extension of producing artistic director Lisa Coffi's college thesis project. Her first production of "Comedy of Errors" in San Pedro amazed everyone involved by attracting more than 3000 people to its nine performances. Because of that success they came back for a second year, then a third, then a fourth, and eventually started doing two shows instead of one. Then came the decision that truly makes this company stand out, Shakespeare By the Sea took their shows on the road. Since the cast, whom doubles as the crew, had to break down the set everyday anyway, why not store it in a moving truck and bring the shows to people who otherwise wouldn't get a chance to see them?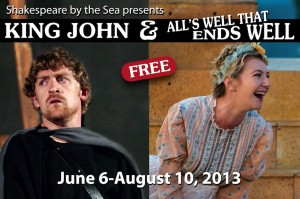 Today, Shakespeare By the Sea performs in over 20 cities up and down the coast from Alta Dena to Torrance to Hermosa Beach; all that's needed is power, restrooms and an interest. Some cities help subsidize the performance and others don't. The rest of the funding comes from corporate sponsors and raffle/T-shirt sales and donations from patrons. Coffi describes the fundraising as a constant day-to-day struggle, but a struggle that is worth the effort and there are no plans to start charging admission any time in the near future.
"At any given night you can actually see someone who's sitting in the audience in one of the more well-to-do neighborhoods with their bottle of wine and they're all to-do and you look behind them and in a row there's a mom with six kids eating Kentucky Fried Chicken," said Coffi. "So you know the mom with six kids eating Kentucky Fried Chicken would never pay $10 a head for those six kids to come see Shakespeare. So, you know that affects me . . . I was affected by theater, so I'm pretty sure that somewhere in there we're affecting other people . . . it's what keeps me wanting to do it."
Obviously there are going to be concessions made to keep the shows free. Programs are $2 to cover the cost of printing them, and you aren't going to find Henry on the moon or the Midsummer lovers in a 50's diner. Coffi, describes their brand of Shakespeare as broad strokes Shakespeare. Costumes and set will imply the period that the show is from, but the main focus is on telling the story, telling it well and telling it to people who wouldn't otherwise be exposed. So far, they are succeeding admirably.
The 2013 season is comprised of "King John" and "Alls Well that Ends Well" running in rep and at the time of publication there are 18 shows remaining. Dates and locations can be found online at www.shakespearebythesea.org.
*Coverage provided for  the Culver City News