"Fela!" at the Ahmonson downtown is the story of the Nigerian musician Fela Anikulapo-Kuti who pioneered Afro-beat music and used that music as a political commentary against the unjust ruling regimes in Africa; especially that of Nigeria.  Told through music, dance, projections and the beautiful scenic and costume design of Marina Draghici, "Fela!" is a powerhouse.  The choreography, by Bill T. Jones who also directs, is explosive.  It is joyful, free, chaotic, celebratory, sexual and spiritual.  It is African dance as it is meant to be danced.  The cast is stunning in both their vocals and choeography.  Adesola Osakalumi as Fela is phenomenal.  He commands the stage and is wildly charismatic.  Melanie Marshall as Fela's mother Funmilayo, has an absolutely gorgeous voice and displays a poise and stoicism that contrasts beautifully with the rest of the characters on stage.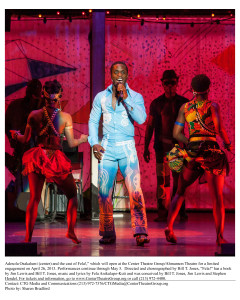 However, it is long, with the second act running significantly longer than the first.  Despite this length, it felt as if the most significant parts of the story received the least amount of focus.  There is a scene in the first act where Fela is arrested for drug possession, and to beat the rap he eats the evidence.  So it is decided that the courts will wait until the evidence comes back out again so that they can proceed with their charges.  The scene is funny, but when all is said and done this anecdote takes longer to tell than the scene in the second act where his compound is raided and his mother is killed.  The compound raid is a powerful scene, but after reading more about it online, the details in the play are sorely lacking.
In fact the more that I read about Fela Kuti, the more I feel that the story told in this musical misses the point, it glosses over or makes light of the harsh realities of his life and in doing so deflates their impact.  I walked away from the musical with the impression that Fela Kuti was a charismatic, free-loving, pot-smoking musician, whose love of antagonizing the Nigerian leadership in his music made him a target.  In reality his political agenda and leadership was much more than this, and that unfortunately is not evident in the play.
*Coverage provided for  the Culver City News